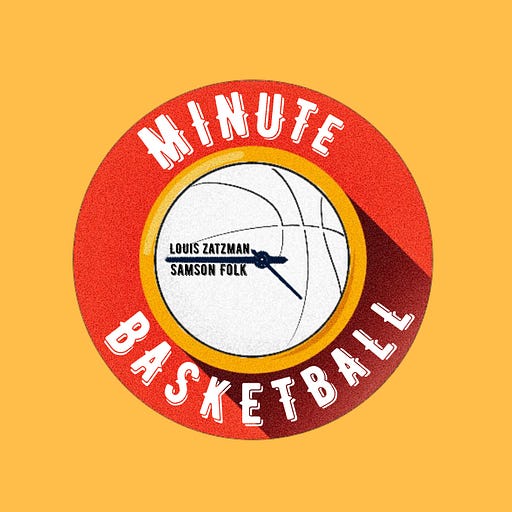 Jun 17, 2021 • 11M
Minute Basketball: Glorious Purpose
The audio version of the celebrated and world famous, Minute Basketball Newsletter.
Kyrie Irving. Kawhi Leonard. Chris Paul. Mike Conley. Not to mention, those already vanquished -- Anthony Davis, Jamal Murray, Jaylen Brown. Or some playing through it -- Joel Embiid, Trae Young, Donovan Mitchell, James Harden. 
All injured or absent for other reasons. 
It's easier at this point to count the surviving stars. Devin Booker. Kevin Durant. Giannis Antetokounmpo. Paul George. Antetokounmpo is missing Donte DiVincenzo, but his team is relatively healthy. Durant's legacy is already set in stone. Booker is young.
Which leaves us George. The Los Angeles Clippers are now without Leonard, the most significant of the two generals leading the charge around the Maginot Line. 
What would the Clippers losing to the Jazz mean for George? A year after hitting the side of the backboard as the Clippers crumbled under an avalanche of Nikola Jokic and Jamal Murray pick and rolls, George is back in the playoffs, playing better than ever. He's been to the Eastern Conference Finals, of course, with the Indiana Pacers, but Roy Hibbert led the team in points in that series. George has only averaged more than his current 27.3 points per game over a full series in the first rounds of 2017 and 2019 -- and George's squads lost both series by a combined eight games to one. What would the Clippers beating the Utah Jazz mean for George?
George has usually not been the type of superstar to shoulder his team over the finish line in the playoffs. That doesn't mean he's not able. With Leonard gone, the Clippers are George's team now. And this moment marks an opportunity for George to do something he's never done before. This week in Minute Basketball, Glorious Purpose. 
Folk - Paul George
We planned to write about George before he broke out one of his best career playoff performances to date. I'm a George-optimist so, naturally, I was expecting good things. Luckily for me, he delivered to the tune of 35 points, 16 rebounds, 5 assists, 1 steal, and 2 blocks, on 67.4% true shooting. It was also probably his best defensive performance of the playoffs - to be fair though, he has underwhelmed somewhat on that end. All this, to lead the Clippers (sans Kawhi Leonard) up 3-2 against the Jazz.
I always thought George's growing legacy was strange. That the story of his game had been divorced in the minds of fans in an unfair way. He and the Pacers punched up at the world-ending Heatles, expectation grew, and George suffered a gruesome leg injury in the middle of his ascension to superstar status. Since he rebuilt his body and his game, the expectations remained, but the achievements of his past had been tucked away in a hidden place for most fans. The cultural memory of George is only that of his failures, never of his triumphs. And, if you're of the mind that any rung on the ladder that isn't a championship means it wasn't a climb, then you probably really dislike what I'm saying, and we fundamentally disagree about how NBA careers and accolades work.
George's triumphs live large in my memory though, and last night was an addition rather than a standalone.
Empty your mind, be formless. Shapeless, like water. If you put water into a cup, it becomes the cup. You put water into a bottle and it becomes the bottle. You put it in a teapot, it becomes the teapot. Now, water can flow or it can crash. Be water, my friend. - Bruce Lee
I don't think it's too wild to suggest that George might have one of the most aesthetically pleasing games of all time. Bruce Lee's "Be like water" quote is a metaphor for how to conduct oneself in the world. To be one with the world, while still maintaining the capacity to affect it. George's game almost abandons the metaphor. Slithery and smooth like a stream running down a mountain, winding and twisting to avoid what might be a roadblock up ahead, George's silky smooth jumpshot and means of conveyance is at times, that. And evidenced by his catalogue of posters over his career, his long stride and gather into shoulder bumps in the lane, carving out space in heavily contested areas and his capacity to bang around for rebounds - George can crash like the tidal wave.
Tidal Wave
Clip 1: A two-foot gather against O'Neale because he knows he can clear him out and finish under control. A one-foot gather against Favors, because he knows he can only get him off-balance.
Clip 2: George moves with the balance and explosion of a much smaller man, but you can really feel his size when he contests the glass and shoots over top.
Stream
Slicing through small crevices without a wasted movement, like the path ahead is intuitive.
Slithering to his spot, cool as you like. Mixing and matching the flow and the crash. Magical.
If we want to get cute with it, George's in your face pull-up 3 is also the equivalent of a front-kick. I can take it or leave it.
Front-Kick
Kawhi Leonard is the deserved top dog with the Clippers, but without him in the lineup, George doesn't need to tune into anyone else's game. The cues come from no one but him, as we saw in Game 5 vs. the Jazz. The Clippers ran actions off-ball to free him up, and he if the Jazz loaded up, George backed off and let his teammates attack. If he wanted to force the issue he did (and quite often in the first half), but he chose his spots. The impetus wasn't ever placed on him at random during the game, it was there from the beginning. The Clippers are at their best with Leonard and George in tandem, of course, and it takes work from them both to get there. But, this situation couldn't be anything except a primer for George's explosion. The platform for his categorically beautiful game to breathe and thrive with as much flourish as he chooses.
Fans and teammates alike have seemingly had problems with where George has placed himself in the hierarchy of the NBA's elite. But, the NBA is a collection of players who have, until reaching the NBA, for the most part dominated every level of basketball they've ever played at. Every player is truly great.
Context allows for greatness, though. Ultimate winner, Kyle Lowry was always supposed to reach the mountaintop, and he did. Chris Paul hasn't, though. They're both Hall of Fame point guards, with no concrete differences in their games that dictate why one should be a champion and the other should not. Glorious Purpose isn't a promise, it's a concept. Mine might come at the expense of anyone else's. Yours as well. A finite amount of achievements and winners dictates this.
The point? In a chaotic and somewhat tragic sequence of events and injuries, the roadmap for George to deliver on his Glorious Purpose (with an extreme burden of high-level performance on his end) has become clearer. I guess we'll see.