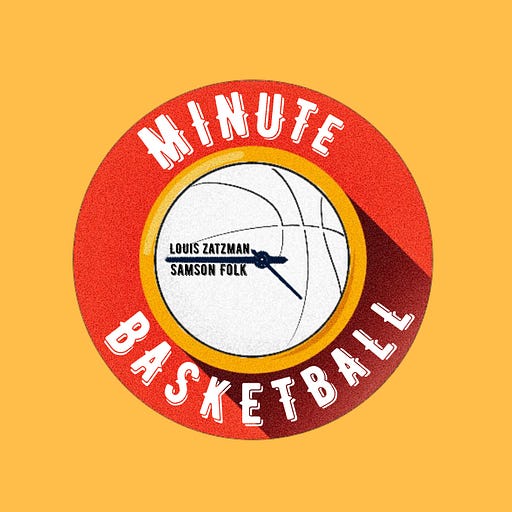 Mar 3, 2022 • 10M
Minute Basketball: Timing
Appears in this episode
Louis Zatzman and Samson Folk
The audio version of the celebrated and world famous, Minute Basketball Newsletter.
Cliches are cliches for a reason has become a cliche. And for a good reason! Let me give you an example: timing is everything. Amanda and I were talking about how chill our baby was the other day. At exactly the moment I said this, however, his cries from across our home shattered the still night. Funny guy! Not because of his jokes (he has none) or his banter (still, none) or his words (obviously, of course, none). He's funny because timing is everything. It's even a Garrett Hedlund song for crying out loud. (who?) 
Timing is the difference between Norm MacDonald and the regular at my old bar who never shut up, between our reality of English- or French-speaking Canada. In a zero-sum world like the NBA, timing being everything means it's the difference between all those ranges of possible outcomes. On and off the court. 
This week in Minute Basketball: timing.  
Zatzman - Off the court
Masai Ujiri sat in front of assembled media from Toronto and elsewhere the day after the trade deadline and made a shocking and thought-provoking claim. Everyone knows that timing is everything off the court in the NBA. What Ujiri seemed to claim, and this section presupposes, is … maybe it isn't?  
"There's no window," he said, interrupting a question from Eric Koreen about championship windows and having players all peak within the same time frame, "I'll stop you there.
"When do they reach their peak? You know that's what you're talking about. The younger players are (approximately) 21, Barnes and OG. That's the composition of our team. You have to mix in these players. I feel strongly that Fred, Pascal, these guys can get better. They are going to get even better than they are now. I said this when we talked about this before, and I think Fred making the All-Star (game) tells me that he got better. I think Pascal is having an All-Star year. I think OG, if he doesn't miss how many games from injury just like Pascal, he'll be in all those conversations too. Incredible dynamic player. Scottie Barnes. I think they're all getting better. This is just the composition of our team. Do we have to be at a championship level where all of them are 27 years old, 28 years old, peaking, and now we've reached the championship and this is what we're doing? I wish I could look at it and tell you like that's the way it happens all the time. It's not that way."
The end there is the most significant part. One more time, shortened for emphasis: "Do we have to be at a championship level where all of them are 27 years old, 28 years old, peaking? It's not that way." 
Well, that's not so hard to fact check. Since the 2010 championship, nine champions have had their three best players -- defined here by VORP but almost always pretty obvious to all observers -- 26 years or older: what Ujiri meant by "peaking." Some of them have been incredibly close in age: the 2010 Los Angeles Lakers featured Kobe Bryant (31), Pau Gasol (29), and Lamar Odom (30) with the smallest spread, but so too were the Golden State Warriors (many times) led by three stars within two years of one another. A three-year gap for the Miami Heat's big three. 
There have been a few teams since 2010 with three stars in different phases of their career. The San Antonio Spurs in 2014 are the most obvious candidate, with Kawhi Leonard leading the team in VORP at 23 years of age while Manu Ginobili (36) and Tim Duncan (38) were more than a decade older apiece. Similarly, a 24-year-old Kyrie Irving was relatively inexperienced for the 2016 champion Cleveland Cavaliers. 
And most significantly, the Raptors' own Pascal Siakam was 25 years old when winning a championship in 2019 alongside a 28-year-old Leonard and 33-year-old Kyle Lowry. So Ujiri had precedent for his there-is-no-window stance, including the championship he won only a few years before. 
What does that mean for timing an NBA championship? It means in the micro (and this is Minute Basketball, lest we forget) that the Raptors aren't waiting for shit; they have their stars in Pascal Siakam and Fred VanVleet, and they may be older than Scottie Barnes and OG Anunoby, but it doesn't bother Ujiri in the least. They aren't building around one pair or the other. The team-building philosophical embodiment of "Fuck it, let's get both." 
But in the macro, Ujiri's comments are even more revealing. It means, if you take him at face value, that there is no such thing as off-court timing. Good players make it work. Lowry, a previously score-first player, became one of the best pick-and-roll passers in the league in Toronto's championship season. Jason Kidd basically stopped shooting inside the arc for the Dallas Mavericks. Perhaps Scottie Barnes -- now a transition demon, cutting wizard, and offensive rebounding extraordinaire -- would feast in the post more often were the Raptors organized differently (ie. had more than three shooters on the team). I doubt he'd need time to change, merely a difference in scenery.
The point is that players can be ready no matter their age. Rajon Rondo was a starting point guard on a championship team in his sophomore season. Danny Green will probably start on championship teams into his 40s. Championship windows, if they exist, are propped open by individual skills and their complex enmeshing, not by time. 
Folk - On the court
This could just as easily be about sequencing rather than timing, but for this case I think they're more or less synonymous. And in this case, the Philadelphia 76ers case, the "oh this team has lots of great players, how will they share the ball" case: timing is imperative. The Sixers are now 3-0 with James Harden in the lineup, and they're simultaneously maintaining Embiid's MVP status and Tyrese Maxey's ascension to stardom. Oh yeah, and max contract Tobias Harris is in the mix as well. Mouths to feed, everything is new, how do you do it in a way that puts you in winning situations? 
This might sound somewhat simplistic, but they're relying on Harden, the new guy, to figure it out. He is the arbiter of whose time it is. Yes, the arbiter of time. When you have the seismic impact of either Harden or Embiid, your ability to break defenses isn't reliant on beautiful set symmetry or clever misdirections on the weak-side. The exit screen to punish a tag, for example. These guys can run a simple ball screen and fuel a remarkable offense in doing so. That very access to easy baskets is what drove the advent of 'Harden-ball' in Houston. 
"This guy can score unlike anybody else in history, just let him try to do it more?"
Harden paired up with Chris Paul and they were the shepherds of one of the NBA's greatest teams to never win a championship. Relationships frayed, Russell Westbrook came in, and a weakness was recognized on the Rockets. Harden wasn't the arbiter of time, the defense was. They doubled him when he crossed half court, and signed off on playing 3-on-4 defense to avoid Harden's sensational isolation stylings. It worked. And one of the most dominating on-ball presences decided he wanted to be insulated against that, and requested a trade away from Houston. He ended up in Brooklyn, fought through a significant hamstring injury in the playoffs, then found himself mired in all the controversy of the 21-22 Nets. Kyrie Irving the part time player, Kevin Durant injured - Harden didn't want 'Harden-ball' again. 
So, here he is in Philadelphia, the arbiter of time, the author of their offense, and finding success for himself and others, at the right time. Maxey's 21 second half points to help dispatch of the Nets came largely on second-side action after Harden tilted the defense in his favor. Maxey is rapid in every sense of the word, and giving him the option to attack off of Embiid and Harden's incredible gravity is a death sentence. He's had one 3-game stretch of scoring better than when Harden arrived. A scintillating stretch of 88 points on 58 shots. With Harden? 75 on 42. The efficiency is a little mind numbing. 
Embiid's comments in regards to Harden are no doubt applicable for Maxey as well: "That was probably the most wide open I've ever been in my career. I had a lot of easy baskets. I used to have to work for everything." 
The arbiter of time will continue to find it for himself and others.