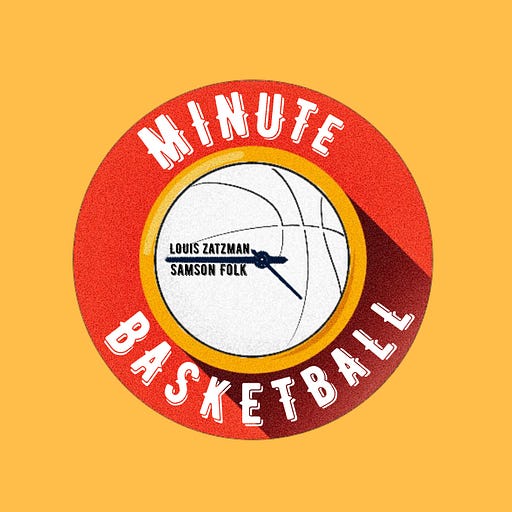 Mar 31, 2022 • 10M
Minute Basketball: Return
Appears in this episode
Louis Zatzman and Samson Folk
The audio version of the celebrated and world famous, Minute Basketball Newsletter.
Fear isn't the only mind killer. All emotion is. Get too excited, too nervous, too confident: feel much of anything at all, and you can suffer the consequences. The problem for NBA players coming back from injury is that you feel too much of everything. Not just NBA players -- coming back to anything is an emotional affair.
Injury is the ultimate interruption, physically and mentally. You might not trust the injured part of your body coming back (Gordon Hayward), might not trust your teammates remember your talents (Pascal Siakam), or might not trust your place as the starting quarterback of the team will remain yours (Dennis Quaid). Those are all fears. Or, best case scenario, you might have total faith in yourself and your situation and itch to return to the field of play. The problem is that's still an interruption, an emotion that's not your usual gameday vibe. The pitfalls and traps abound.
This is all without even mentioning the actual injury itself, which in varying cases can often impact players long after they're on the court shooting hoops. All this to say: returns are not, by definition, triumphant.
And yet against all odds many still are. As the NBA season lurches and grinds to the playoffs, returns, too, are increasing their pace. On what that might mean when the postseason begins, and celebrating the returns that triumph against all odds. The major and the minute.
This week in Minute Basketball: Return.
Folk - Hello, George
Ahh yes, return. Return to Minute Basketball where I pair my extremely limited sportswriter brain with Louis' vast wealth of insights and anecdotes. 
The name George, for me, means Paul and Costanza. Perhaps the most fluid and beautiful basketball stylist of all time, and a fictional character who is the very worst of us. I tried very hard to highlight Paul George as an MVP candidate early on in this season. He was tremendous, he was hot off the heels of a dazzling playoff performance, and he was still trying to drag the Clippers to middling heights without Kawhi Leonard. He broke down over the course of the season, had to have surgery, and was out for an extended period of time before coming back a couple nights ago. 34 points, 6 assists, 4 steals. 
George's return was the intersection of a couple returns outside of his own. The return of the questions surrounding Rudy Gobert and Donovan Mitchell's doomed partnership in Utah. Who could possibly serve as a better reminder of their shortcomings than the man who ended their championship aspirations less than a year ago? The circumventing of the Maginot Line that Louis and I talked about in our France episode still rings true. George took nearly half of his shots from behind the 3-point line, and did so in a way that only he knows how. When Steph Curry clears the screen, he pulls. He doesn't care much about getting a couple feet closer. George, however, is the master of toeing the line. Little parking stalls for George's feet are laid around the arc, and he visits them frequently. With forward momentum, or stepping back, they are specifically designed for him. If someone like Kevin Durant tries to park his larger feet there, he'll go over the line and lose in game 7. The return of George's feet to their parking spots. 
And George Costanza, well that's my return. I love basketball dearly and I mine it for meaning and progression in odd spots, but Paul George plays the game so beautifully. He doesn't play the same grubby sport that Fred VanVleet, Chris Paul, and Steven Adams play. George returning to my TV screen every game makes me return to the worst version of myself: no longer mining the role players' games for meaning. But instead, indulging in the all too easy "that boy nice" viewership of watching PG13 go to work. Lazy, gluttonous, self-indulgent, like Mr. Costanza. 
Zatzman - The Big Picture
Playoff teams this year who aren't either missing (and potentially expecting back) starters or currently in the process of working them back into the lineup are few and far in between. A list, then, with stats accurate as of Mar. 30. 
The Clippers are only on this list because of the magnitude of George and Kawhi Leonard, but the list of teams with injured starters is far longer than those without. In fact, the only teams to have reached 40 wins this season that currently aren't returning or will be returning an injured player are the Miami Heat (imploding), Philadelphia 76ers (mediocre in March), Brooklyn Nets (hardly exist as a basketball team under the weight of their own players' existences), Dallas Mavericks (I have nothing bad to say), Utah Jazz (imploding), and Minnesota Timberwolves (surging). Realistically, none of those teams are winning the NBA championship.
Which means in all likelihood, the champion will be working a returned player back into the system during the critical time of the year.
The Suns are a machine with or without Chris Paul. They were on pace to break the clutch record before Paul hurt his thumb, and then they were 11-4 without him. And 2-0 in double-digit wins over playoff teams since his return. They, ahh, don't have much trouble working anyone back and are my championship favourite.
The Grizzlies, similarly, don't seem to have much trouble without Ja Morant. He has a negative on/off net rating, and the team is a buzzsaw without him in the lineup. His multiple returns from various maladies through the season have been seamless, and I imagine he would be playing right now if the Grizzlies had anything realistic to play for during this stretch run.
But then come some teams showing problems with their returners. The Warriors kind of stink without Steph Curry, and they've lost six of seven. They also have not yet found their footing with Klay Thompson, with both the defense and offense worse with him on the floor. The Warriors have outscored opponents by 245 with both Curry and Draymond Green on the floor (also a relatively recent returner from injury), and have only won the season by 392 points. That's a heck of a lot of reliance on two players, one of whom will be a returner, and the other of whom is a recent returner. Thompson was supposed to help plug the gap, and the hope has to be that as he returns to form, so too will the team in his minutes. That's a lot of ifs as the playoffs loom.
Milwaukee is probably fine. Its center is not the centerpiece of the team, though Brook Lopez will be critical to Milwaukee's malleability in mixing in drop coverage against playoff foes. Yet the Boston Celtics, also missing a center, could be in trouble. Robert Williams III has the second-highest on/off differential on the team, and they're 6-7 in games without him in the lineup. Boston has assembled a really nice cast of decision makers to surround the star wings, but excellence will always be a fine line when the stars are so similar. Williams' presence may determine which side of the line Boston finds itself.
The Nuggets perhaps might not even return Michael Porter jr. or Jamal Murray according to recent reports from Mike Singer, so their inclusion on this list may be superfluous. But they will need the talent -- and the talent to fit in immediately if it does return -- to matter deep into the playoffs. 
Ditto for the Bulls with the entire core of their defense in Alex Caruso, Lonzo Ball, and Patrick Williams. Caruso is back and has immediately been outperforming the team's plus-minus, but he can't stabilize the defensive free-fall on his own now. Ball suffered a small setback over a week ago in his return to the court, and he may not be back. Williams is starting to get his legs under him. All three, by the way, have defensive on/offs between the 94th and 96th percentile. Their presence and comfort will determine Chicago's playoff fate, as long as the stars and their health stay dependable. 
Toronto's half-court offense has fallen off a cliff without Fred VanVleet healthy and creating advantages in pick and rolls. It's doubtful that he'll find his knee magically healed by the playoffs, as he's said rest isn't helping, and it's been injured since early February. On the other hand, OG Anunoby's return from (with?) a fractured finger is going swimmingly, as his shooting and defense have solved a variety of Toronto's problems. Toronto is a realistic dark horse to reach the Eastern Conference Finals, but only if their top-end talent can play at its best.
The Cavs have gone 7-12 without Jarrett Allen in the lineup, as he props up everything they do on both sides of the floor. The Clippers are not going to win in the playoffs without at least one of their stars, but George's return went about as well as reality could have allowed. Of course, covered above.  
The teams that integrate their stars seamlessly back into the systems will have huge advantages over those that don't -- partially because every damn contender seems to be in the process of grappling with one return or another. Talent, cohesion, and luck always determine results in the NBA playoffs. This year, returns, too, will have a monstrous part to play.