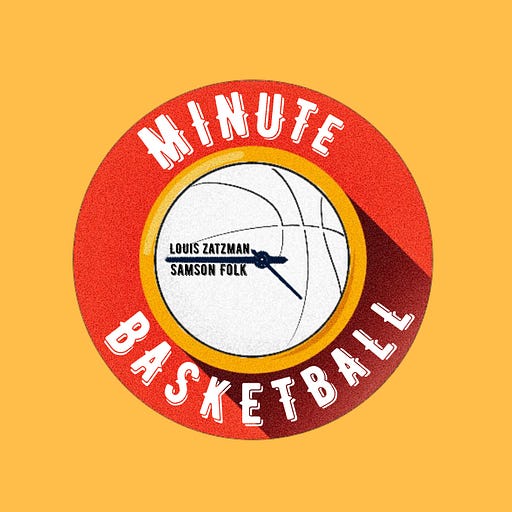 Feb 10, 2022 • 13M
Minute Basketball: Drive
Appears in this episode
Louis Zatzman and Samson Folk
The audio version of the celebrated and world famous, Minute Basketball Newsletter.
My baby was born on his due date. They say that's rare. I wasn't ready. January 12th, a Wednesday. Amanda went in for a routine checkup, and she called later saying they wanted to induce her, were going to do it later that day. She said, I'll call you when I have a room. I don't remember my drive to the hospital. Straight shot. I blinked, and I was there.
Going home was crooked. I hadn't slept, and there was so much to pile in the car, including a baby. I missed the machine where I was supposed to pay for parking, had to reverse, was too far, jumped out, couldn't find the card slot. The baby was cold, crying. It was like I forgot how to be human, not knowing where to drive, how. I got turned around, doubled back, tried to go the wrong way down a one-way street.
Minute Basketball took a short break afterwards, but we're back now! This week in Minute Basketball, Drive.
Folk - The Funk, of course
The opening stretch of 'Drive' lives in my head rent free. You're introduced to the protagonist, who is only ever known as "Driver", and you passively learn about his prowess behind the wheel before seeing it in action. Any roadblock that comes his way is navigated from the confines of the car. He highlights the hundred thousand streets in Los Angeles, and we're to understand that this bevy of options makes him limitless - which is later confirmed by Shannon's "You put this kid behind the wheel and there's nothing he can't do". Patrol cars, and helicopters give chase, but he outfoxes them on his way to the safe haven of the Staples Center (before it was Crypto world) parking lot. He is adaptable, clinical, and cool as hell. He walks out of the arena in a badass fit the same way many players walk into them. Kavinsky's "Nightcall" blares out over the top of extremely stylized shots. 
This feels as close to a movie counterpart for Shai Gilgeous-Alexander as you could possibly get. 
'SGA' is limitless with the ball. Who led the league in drives per game last year? 'SGA'. Who leads the league this year? 'SGA'. No player in the league scores more out of drives, and only two players dish more assists out of them. He's only 23 years old, but he's already cemented himself as one of the most fantastical drivers to ever play in the NBA, and the best part? He doesn't look like anyone who's done it before, and he's going to be almost impossible for future players to emulate. 
Where other players might see five or six lanes on the court at any given time, 'SGA' sees hundreds. When you're in control of the basketball and as special as a manipulator as he is, route efficiency isn't important whatsoever. LeBron James spent most of his career taking direct lines to the rim and maximizing his athleticism, but 'SGA' operates on a different plane entirely. Straight lines are for the birds, and the tracking data on an 'SGA game looks like the lazy and loopy drawings of a small child. Now imagine trying to predict what a child might draw. 
'SGA's long legs and soft touch at the rim mean he can explode there in direct lines, of course, but he can also hit the brakes better than anyone in the NBA. Explosive change of direction is worth its weight in gold in the NBA and 'SGA' will do so in every direction. He'll back track in the footsteps of his own drives, and he often blurs the lines between downhill and uphill attacking. Snake-ing the pick n' roll is as adventurous as some players will ever get on ball, and he makes the slithering patterns of a snake seem mundane. 
A live dribble is everything to a guard as it opens up new possibilities and new reactions from defenses. 'SGA' maintains his dribble as well as the best players league wide, yes, but he's also significantly less limited after his pickup point than most of his backcourt contemporaries. If Fred VanVleet or Chris Paul pick up their dribble 18 feet away from the basket they better have a shot or a pass in mind, but that doesn't apply to the uniquely gifted guard in OKC - the rim is always an option. And the fact that he doesn't have to babysit a live dribble means that he can squeeze through gaps like a running back. He punches gaps and slips through impossible angles, twisting and contorting his body in odd shapes before finding himself upright at the basket once again. 
I worked his game in Toronto as media (next to my dear friend Louis) and the Raptors threw everything at him that they could. He nutmegged 3 different Raptors players with interior passes. His body isn't the only thing that he can force through tight windows, because he reads the defense in such a special way while in motion that he spotted these opportunities repeatedly. Sure, it's not quite as groundbreaking as when Kyle Lowry tried to literally crawl through George Hill's legs, but it's far more effective. 
The restrictive team context of the Thunder has dictated that 'SGA' be limited as teams overload on him. And yet, he finds the impossibilities and turns them into reality with astounding regularity. He is a singular presence in NBA history, and his improvisational drives can be as captivating and enthralling as a perfect opening to a movie. 
Zatzman - Straight
Pool hustlers need an arsenal of ways to lose games but only two ways to win them. There's the accidental win -- kicking in the nine ball, pretending not to mean it. That's to keep the fish on the hook. But then when the bet's maxed out, when the night is done, there's the Autobahn-speed-in-the-city win. Showing your true skills, taking off your Clark Kent mask and revealing the extent of your powers. I'm so much better than you that there's nothing you can do. No more tricks.
There aren't any NBA players that don't deserve to be there. But there are some so talented, so impossibly, wondrously athletic that they make the other superhumans on NBA courts look like rusted VW vans getting passed on the highway by Lamborghinis. They look undeserving when getting beaten in a straight line in a complex, shaded sport.
That I'm better than you and there's nothing you can do about it can look different for different NBA players.
Joel Embiid
Embiid doesn't drive all that often, only a handful of times a game. And the few times he does drive come out of low-frequency plays, pump-and-gos against closeouts, as a trailer in transition, or keeper plays in handoffs. Yet he's a top-five efficiency driver, nearly unstoppable without throwing a swarm of bodies at his sides, in front of his drives. 
In the immortal words of Fezzik, "it's not my fault being the biggest and the strongest." 
Embiid has a few tricks up his sleeve -- namely, a spin move and a James Hardenesque rip-through jumper for free throws. If he were a pitcher, he'd have a curveball and a changeup, but his fastball, his straight-line drives, define him. He's terrific at creating contact on the ground, where he's so enormous and powerful that he's never the one losing his line. His arms are endless, so in situations when another player would need to time a first jump, he's already at the rim with his standing reach. 
Another advantage: Embiid is defended by opponents' best (usually only) rim protector, so if he gets past his man on the outside of the floor -- in other words, driving -- there's no one to dissuade him at the rim. It's an advantage for all big men, and it's a big reason why so many guards look to draw switches onto bigs before attacking: so that the bigs aren't waiting for them under the rim. Embiid short circuits that process, doesn't need the switch, creates advantages as a matter of course.
He doesn't have the first step or the dribbling abilities (honestly, he's so big that the ball has to come pretty high up off the ground to reach his hands, meaning he's susceptible to digs from helpers if he telegraphs his drives) to drive 30 times a game and expect to create advantages over and over. But when he tosses a drive in here and there, at opportune moments, he becomes the one who knocks.
Anthony Edwards
Edwards isn't among the best drivers in the league. Soon, he's gonna be.
Athleticism doesn't always come in a single package. Often, the highest jumpers have slim builds -- think Jamario Moon or Shannon Brown or Ja Morant. Often the strongest players are the slowest moving -- Shaq, late-career. Or perhaps the speediest players can't fly like they have wings strapped to their backs with jet packs strapped to their wings  -- Chris Paul, early-career. 
But Edwards has all of those attributes and then some. 
His first step is preposterous, jolting him forward like a muscle car that you take by surprise as you jam the accelerator to the ground. He eats space as he chops towards the rim. Contact doesn't phase him in the least, so there's no need to herk or jerk his way sideways around the rim. And he's maneuverable in midair, so he can reach up and over a contest or sidle around, finishing on the other side. Somehow he doesn't lose his strength when he's in midair.
All that is on top of being able to, you know, dunk like Vince Carter circa 2000. So why isn't Edwards the best driver in the league yet? His handling, though rapidly improving, still hasn't caught up to the rest of his game, which is holding him back. He's not a wonderful passer or pullup shooter, so even though he actually shoots quite efficiently out of drives, over 50 percent, he doesn't offer enough other positives to make the whole package deadly quite yet.
Those things come along. Edwards is the entire package as an athlete and a finisher. He has the ability to contort defenses into positions like skunk spray to dogs. Defenders, both primary and help, have to guess, have to anticipate -- if they try to respond to his choices, they're going to be late. He's too fast otherwise. Guile would only serve to slow him down.
Dejounte Murray
It's not always speed, strength, or other types of athleticism that combine to make straight-line drivers elite. Advantages can be more subtle than that. Murray has evolved into one of the most fearsome drivers in the league this year. He's blossomed into a league leader in both frequency and efficiency -- it's basically just him and Luka Doncic at the top of both categories. 
He passes more than most when driving, out of almost half, but he's fantastic at finding early-beat looks to create runways for open teammates -- he's fourth in the league in assists after ranking 38th last year, directly in between Khris Middleton and Bam Adebayo. A lot of those assists are coming out of the drive as high-calorie, value-added passes while on the move. He looks like prime Russell Westbrook at times with the flair of his passes.
But Murray's drives to score are perhaps more impressive. His advantage is in his arms, his endless length, and those don't require craft or guile to loft open shots at the rim.
If his body is technically moving straight, his extracurriculars do anything but. His arms and legs can fly akimbo. He has an enormous number of release points, almost enough to rival Nikola Jokic or Jimmy Butler for the most in the league. He has one-handed gathers with big enough hands to start the process at any point in his stride. He's not the fastest, but he can accelerate and decelerate enough times in one drive, back and forth like a yo-yo, so that no one can match his steps.   
Murray -- newly minted All Star! -- functions as proof of concept that sometimes players are better drivers when they lack the horizontal. Guile, change of direction, eurosteps: those only serve to slow Murray, to take the ball out of his pocket. Trying to become a funk master would blunt his sharp edges. Straight drivers aren't straight drivers because they never learned the funk. They're straight because that's what makes them best.