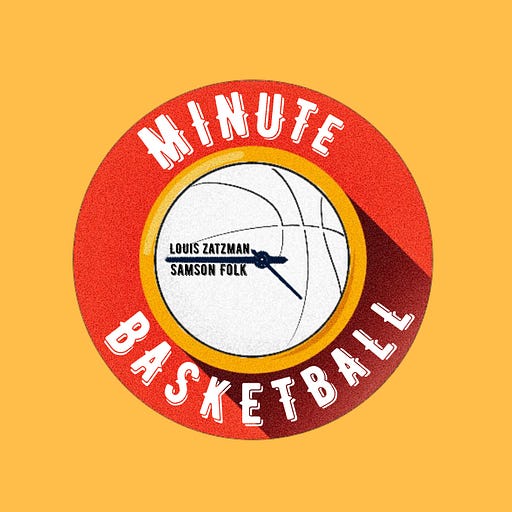 Dec 16, 2021 • 14M
Minute Basketball: Playlist
Appears in this episode
Louis Zatzman and Samson Folk
The audio version of the celebrated and world famous, Minute Basketball Newsletter.
While I was young, I gave my most treasured belongings to Apple. Over the course of a decade or more, I uploaded my CDs to iTunes, eventually transitioning entirely to digital, adding EPs, pirated albums, entire discographies -- Miles Davis, the Beatles, Elliott Smith. In university I worked at a radio station and added full genres of full years of music, from the Arcade Fire to Hannah Georgas to Yukon Blonde, 2010. At one point, my bloated iTunes would have taken over three years to listen to consecutively. Later, four years, after I discovered the discography of Funkadelic (aka Parliament aka Parliament-Funkadelic aka P-Funk aka the P-Funk All Stars). 
My computer harddrives could not keep pace with the expansion of my tastes (going oldies as I aged: Townes Van Zandt! CunninLynguists! in 2011). So I caved that year and uploaded the full thing to Google Play Music, housing my treasures somewhere in barges off the coast of California, most likely, rather than inside my laptops. Instead of burning CDs, I started making my own playlists, some obvious ("Perfect" for my favourites, ever-changing) and some less so (playlists for each mood, or even "Obsessions, past or present" that boasted a chronological list of songs that punched me in the fucking gut the first time I heard them).
Later, I met a girl, got married, and started using her Spotify account. I didn't even use Google Play Music by the time it migrated over to YouTube in 2020. I listened to other people's playlists on Spotify, trusting the algorithm to choose my music for me. Sometimes it introduced me to new favourites (The Mountain Goats!).
Last month, I dug up my own buried treasure -- DMX marks the spot. I found YouTube music accidentally and on a whim clicked through to my old playlists. I haven't stopped listening to them since. There are certain moods that individual songs trigger that can't be found in any other way -- secret levels. I haven't stopped feeling for a month.
This week in Minute Basketball, Playlist.
Playing The Hits with Trae Young and John Collins - Folk
There's always a song in your playlist that hits unbelievably hard. So hard, in fact, that you don't play it as often as some others because you don't want it to lose it's punch. It's the song you would play in the car for your friends, prefacing it with: "It slaps."
The Trae Young + John Collins pick n' roll is a god damn hit. It slaps, quite frankly. The delicious downhill stylings of Young and the gravity-defying vertical pop of Collins combine to create a destructive, bombastic play that hits just as hard in points per possession as it does in the highlight reel. 
While the Young + Capela pnr is the most common combo in the NBA -- this Trae guy must be a good pick n' roll handler, hmm -- the Young + Collins combo comes in at 4th, and they are crushing teams with it to the tune of 1.14 PPP. Where does that rank in the league? Well, among high usage pick n' roll combos -- 200+ possessions -- it's second. The only duo outpacing them in efficiency is Donovan Mitchell + Rudy Gobert, but they've done so on significantly less volume (almost half). 
So, what are they doing to eviscerate defenses?
Well, there are a few hallmarks of good pick n' roll partners: the ball handler should be able to threaten as a driver or a shooter, preferably both. The big man should operate well in space, and have an understanding of how to extend passing lanes through his movement, while also being a viable threat to finish at the rim. It's not completely necessary, but if the big is also a lob threat, that allows for a much wider variety of passes, particularly in the sense that you can start to stretch defenses vertically. All that, plus the handler has to be able to toss lobs, pocket passes, wraparounds, and preferably from different dribble heights/arm angles. And oh boy, do those two ever have all that in spades. 
They perfectly harness Collins' vertical pop and mobility with Young's almost unparalleled ability to pierce air space with passes that are burdened with glorious purpose. They're setting drag screens and Collins is slipping. Collins takes his first step toward the rim the moment the defender steps up toward the screen, and it's game over. Young and Collins now have virtually hundreds of square feet to play with. A savant delivering the ball, and one of the league's best athletes ready to feast in the space. It's destructive and unstoppable. Sometimes the process of how they score this way seems closer to performance art than competitive basketball. 
Surely, they can't just slip screens and throw lobs all the time right? Correct. And the good news is that Collins can make good contact as a screener to set Young loose, and teams -- even in the playoffs -- have yet to decipher what the duo might launch at them. Young is a master manipulator. His shooting received the most fanfare in college, everyone was excited for the first real "is this guy the next Curry??" prospect, but Young negotiates space as a driver and passer better than almost everyone else in the NBA. A screen that sets him loose with a man advantage can always lead to an assist, of course, but he's scoring 27 a game. And he's doing so with over 50 percent of his shot attempts coming in between the restricted area and the 3-point line. This is the spot on the floor where Young's bevy of options and remarkable ability to wield them, freezes defenses and creates an environment where he can make pre-game warmup push shots. 
You can see the Nets play the stagger action to stop Collins' roll rather than to stop Trae's drive like the Hornets did in the first clip I showed. They both get to play off their teammates' abilities. 
They ghost screens to empty the strongside and give Young's primary defender something to worry about. Sometimes they'll run Collins through a set before he sets the screen. Both are adaptable finishers, both shoot roughly 40-percent from 3 and Young does it in a particularly dynamic way (39.6%, 6 pull ups a game, that's insane!!). They finish with both hands, they finish off the wrong foot. They run these actions with serious punch and motion. They make great reads, they're braggadocios, and they're probably the NBA's best pick n' roll duo for the next 5 years. 
Play. The. Hits. 
Hitting the Pause/Play Button - Zatzman
Not every team has the luxury of a Young and Collins. I hear that some of them even have to dig deep into the bag and work for their points (gasp!). 
For the teams that are offensively challenged in the halfcourt (honestly, most of them), that process can be controversial. The less efficiently something works, the more room for discussion there is about the correct direction. That's true in all things, not just basketball. But that conversation can become a firestorm in the NBA.
Which brings us to the Toronto Raptors. 
Right now, Pascal Siakam is running more pick and rolls, posting up more, and isolating more than Scottie Barnes. Siakam is initiating a huge number of possessions for the Raptors in a variety of ways, and though Barnes is running some plays, he's generally left on the outside looking in -- attacking rotations, running second-side handoffs, or spotting up from the corner. Orbital stuff, and not yet the gravitational object firmly in the middle of the system, dictating the movement of everything around him. Yet Barnes is still scoring 15.4 points per game. At the same time, Barnes is shooting (slightly) more efficiently from the floor than Siakam. One would be forgiven for thinking the Raptors might optimize its sets with Barnes running the show.
That's not how the NBA works, though. Barnes actually takes much easier shots than Siakam. His average two-point shot distance is two feet closer than Siakam's. He takes far more shots at the rim and fewer from the midrange. Barnes is shooting efficiently -- blossoming as a three-level scorer -- precisely because he's able to test and hone his skills under the roof that Siakam, and to a comparable extent Fred VanVleet, provide for him. Siakam is more efficient in isolation and out of the post than Barnes. The attention Siakam commands as the center of the offensive universe provides the space for Barnes to thrive in the orbital role. 
Switching roles wouldn't help Barnes. He'd take more shots, sure, but he'd also take more difficult shots and be asked to make more and faster decisions. He'd see more bodies in front of his shots, his drives. Thriving as a tertiary option doesn't make you qualified as a primary option right away. (Just ask Siakam himself, who has taken two full years in this role to get to the point he is at today.) Patience is critical for development. And Barnes is already learning at light speed. There's almost certainly no way for it to go faster, especially not by making things more difficult for Barnes, rather than less.
Only a few weeks ago, Samson and I argued virulently in defense of Siakam as a player. Since then, his defense has sharply turned a corner back to excellence. His offense has only improved from very good to great. Despite his slow first few games after returning from major surgery, Siakam already has the third-best on/off differential on the Raptors, while Barnes has the third-worst in the rotation. The team is statistically better with him on the bench. And that's fine! Barnes is a rookie and an unbelievably talented one. He's on track to be perhaps the most talented Raptor of all time. But forcing him into Siakam's role would hurt the Raptors' set structure, Barnes' development, and the play of the rest of the Raptors. 
The process is working. Don't fix what ain't broke.
But because Siakam is not a fully optimized killing machine in the halfcourt, questions about Toronto's offensive process abound. They shouldn't. Toronto's playlist is currently organized the best it can be, given the tracks. Pressing pause, skipping songs -- they only serve as moments of silence, lost chances at joy. Listen to the playlist front to back, the way it was designed. That's the best way to listen to music.