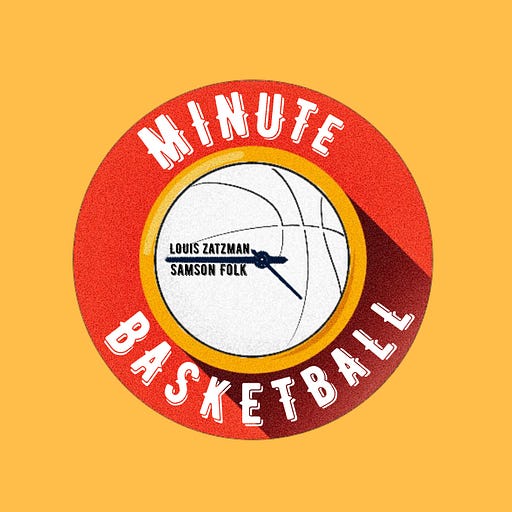 Jan 1, 2022 • 8M
Minute Basketball: Resolutions
Appears in this episode
Louis Zatzman and Samson Folk
The audio version of the celebrated and world famous, Minute Basketball Newsletter.
My mother has kept a book of resolutions for the family since before I was born. It tracks a number of life events of the family, such as partners gained and lost for the siblings, their resolutions included for a year, maybe two, then vanished. For me, though, it tracks the evolution of a life. I wanted to buy my family a new car when I was 8, wanted to work for the CBC when I was 25, wanted to publish my book last year. None of those came true, of course.
My wife and I will be having a baby in early January. My new New Year's resolution is to survive. The book of resolutions now tracks my descent into panicky madness. Most of all, I hope this one comes true. 
This week in Minute Basketball: Resolutions.
Folk - No New Franz
Can a resolution come before the new year? Must we wait with baited breath to announce to the world our intentions for our new self? Or can we improve in, let's say, December, and then desperately try to hang onto the improved version of ourselves into the new year? Franz Wagner's rapid ascension has put him in a position where standing his ground could end up earning him a Rookie of the Year award, if not at least serious consideration. 
Wagner wasn't the Magic's first pick in this past draft, that was Jalen Suggs. They nabbed Wagner at #8, with many people lamenting the pick, and often citing Wagner's perceived low ceiling as a prospect. And that's okay, because scouting and analysis is really difficult. Especially when players bust loose of their perceived weaknesses. Scottie Barnes, for example, started out the NBA season as the league's best performing rookie on offense after being touted as a severely limited offensive player. What Wagner has done isn't so dissimilar. 
Will you be stupid with me for a second? Okay, let's arbitrarily draw a line between all the games that happened before November 29th, and then all the games after it. Here's how it shakes out for Franz:
Pre-29th: 12.7 PPG-2.3 AST-4.3 RBS .425/.361/.786 – very similar to his college numbers
Post-29th: 20 PPG-3.3 AST-5.2 RBS .474/.385//870 
Was there a jump in minutes? A marginal one, yes, but nothing that could possibly explain that leap. More responsibility coupled with more efficiency is typically the marker of a star, but that moniker goes against the very "star in his role" expectations of a fully realized Franz. Cole Anthony's pull-up has fueled a significant leap, but the old Franz (Ferdinand) is dead, let the war for the Magic's best player begin. 
Wagner's ascent isn't fueled by clever cuts or an improving spot-up game - both were always in the cards. The real reason is that he's been filled with an indomitable vigor for downhill momentum. He's been punching gaps as if he were prime LeSean McCoy, only much taller. He's using escape dribbles to beat hedges and switches, then immediately re-engaging the moving parts with a level of confidence that makes you wonder if he knows the outcome of these decisions beforehand. His route efficiency to the cup matches that of the best center fielder in the MLB, only Wagner isn't taking straight lines, he's zigging and zagging through a maze of large individuals. And on top of that, pulling out long, loping euro-steps and finishing with either hand. It's a goddamn marvel. 
These aren't the plays that typically accompany a burgeoning rookie. These drives are gobsmacking. How many players can ward off Jrue Holiday enough to manipulate him into screens? How many players go directly at Giannis like this? Robert Williams III, a huge person, had Giannis dead to rights for a dunk on Christmas and he got stonewalled at the rim. Wagner has fully embraced his ability to play with the ball. 
Since Nov. 30th, over 50-percent of his used possessions are coming with 3+ dribbles, and 24-percent with 7+ dribbles. 3.6, and 3.3 2-point attempts on those possessions, and shooting 50-percent and 43-percent respectively. He's getting screen help, and he's providing heaps of downhill pressure with it. His numbers are obviously much better when he's not dribbling as much - basically every player's are - but the fact that he can be handed possessions and create at this level is an incredible progression. 
Maintain this resolution. 
Zatzman - The Golden State Warriors
The Phoenix is a wonderful creature of fantasy. A fire bird that withers and dies only to be reborn from its own ashes. One even saved Harry Potter from certain death multiple times. The Phoenix is a magical creature indeed, but it has long been believed only to exist in myth. Until the 2021-22 Golden State Warriors.
The Warriors are currently the best team in the NBA, and they've done it without Klay Thompson in the lineup. They have the NBA's fifth-best offense, best defense, and (arguably) leading MVP candidate. They have to be a championship favourite. Their resurgence this season, after winning 15 games in 2019-20 and losing in the play-in game in 2020-21, has been flat-out wild. Like a Phoenix. 
I wasn't exactly low on the Warriors coming into this season. I wrote before the year started that they were a "legitimate contender" due to the fact that they already had a great offense and great defense -- their only limitation was losing the possession battle. They remain awful at taking care of the ball, just total schmucks at times, worse than they were last year. But they've improved to third-best at limiting offensive rebounds. 
That could be enough. They plaster teams when Steph Curry and Draymond Green play together, and they're somehow even more dominant when Curry plays alone. They look and feel like they did when they won championships, act they did then. 
We aren't supposed to be able to just wish our lives, our performances, our successes to turn around. It shouldn't be that easy. The Phoenix can wish itself alive after its death, but for those of us in reality, we have to cope with death begetting death, failure often begetting failure. New Year's Eve is a mirage, a shimmering night of an oasis, champagne-filled and blinkered, goals and memories sliding, not lasting the night. 'I'm going to be fit' lasting an evening, sometimes less, ending in drunk eats on the way home. No, change takes more work than most of us know how to do. 
Which is why the Warriors are a fantasy in and of themselves. They shouldn't exist. Not to say the Warriors will make the Finals again, but they could. No team would ever have followed the path of their last four years if that happens; the last time a team made the Finals, then didn't for two years, then reached it again was the Washington Bullets in 1975 and 1978. But they lost in the Conference Finals in the interceding years. The Warriors didn't (technically) make the playoffs.
Does that mean the Warriors have more resolve than anyone? Maybe. More likely, it means they're recipients of luck in the league's changing landscape and their health and injury statuses. And, yes, that they're unbelievably talented. More than anything, the takeaway should be that this year's Warriors are the NBA metaphor for New Years itself: magical, flighty, effervescent. Most of all, fantastical.